The Blow's new album, Brand New Abyss, is a lightning rod. A wild assembly of frequencies produced out of a thrust of electroacoustic punk energy, the album is a search for a new sound of rebellion in an environment where the aesthetic of punk has been commodified into submission along with most everything else. Brand New Abyss was written and produced by the Blow (Melissa Dyne and Khaela Maricich) using a production rig that the duo painstakingly developed over the past four years; a mothership of patched-together modular synthesizers, ancient samplers and audio production gear. Like wizards in a craggy laboratory, they worked in seclusion, teaching themselves to control the raw material of sound using basic elements of electronic synthesis. Their aim was to be able to channel frequency into new shapes that would be useful to them, like tools to break through the algorithmic limits they were growing bored of. Says Dyne, "After having worked heavily with a samples in the past we got to a place where we wanted to treat electronic sound more acoustically, like something more alive. We wanted to make waves that we could ride and play around in- newer waves."
Brand New Abyss was produced in response to, and in spite of, a series of atmospheric upheavals. Early in the composing process two large scale construction sites sprang up outside the windows of the band's downtown Brooklyn apartment, like dueling high-volume hell-mouths, to which the duo responded at times by joining the noise battle and blasting out their own new beats, and other times by packing up their rig and reinstalling it elsewhere. They often found themselves working in odd locations, like off season vacation towns and 80's timeshare condominium colonies, and the songs on the album reflect these environmental contrasts, spanning from intense rap bangers to open-hearted crystalline confessionals. Working from remote locations, wherever space to work was available, was disorienting; isolated from community and not seeing themselves reflected in their surroundings, the band had to ritually reestablish a sense of who they were and what was the point. In each new place they rearranged the furniture and then rearranged the air, making spheres of sound to surround themselves like halos of protection, providing them themselves a feeling of home and a radiating purpose wherever they went.
When the greater atmosphere dramatically shifted last year The Blow was strangely prepared, already living inside a portable vibe sphere, having practiced for years the art of alchemically transforming gnarly feelings into something nicer. The new single "Get Up," debuting on NPR All Songs Considered, was similarly prescient. Begun in Brooklyn as a parking lot was being demolished out the band's windows, the song took on an extra charge in recent months. Maricich says of the song, "'Get Up' started with a crazy sound that Melissa made on the modular synth, and the chorus just popped out of my mouth like something I'd been needing to be able to say for a long time without knowing it. It was like how you write a love song so easily when your heart is being crushed- with this it's the feeling of my whole spirit being crushed by extreme capitalism, like everything I used to love got demolished and replaced by a glossy new bank. Then in recent months it was like, yeah, having an intense rap about how it's all just too much right now feels pretty right."
The songs on Brand New Abyss were for the most part tracked in The Blow's downtown Brooklyn apartment, next to the construction sites, in the early months of 2017. All songs were written, performed and produced by The Blow, and engineered and mixed by Melissa Dyne. To cheer themselves along in the process of producing the album, the duo created the project WOMANPRODUCER, a multi-platform archive highlighting the history and present of female and gender nonconforming sonic innovators (hosted at womanproducer.com and @womanproducer everywhere else). Last fall they held a series of performances and talks in New York City bringing together producers from across a broad range of genres and eras, with the participants Zola Jesus, Neko Case, Pauline Oliveros, Suzi Analogue and Deradoorian, among many others. The Blow composed Brand New Abyss as a companion to their 2013 release The Blow, which was featured on both of the New York Times' Best Songs of 2013 lists, as well as selected as top album of the year by Bob Boilen of NPR's All Songs Considered. They will be co-headling an extensive US tour this fall with fellow new style punk EMA.
C.V.
THE BLOW II
Our current project is a continued exploration of frequency. It encompasses a performance, a series of videos, and an album of songs, which we are currently recording. The project will debut with a series of performances at The Kitchen in New York City in spring 2017. Experimental iterations of the performance have taken place at Artists Space, The Kitchen, and at Baby's Alright in Brooklyn NY.
"UNPLUGGED"
2014-2015: "Unplugged" was the two of us performing on stage together with our sound production rig, disassembling and reconstructing material from the extended catalog of Blow songs. Developed slowly over the course of years, the system we built for producing music is a mothership of modular synths, ancient samplers and other audio gear patched together in a web of interchangeable cables. Melissa conceived of this system as an answer to the question of what it would look like for the two of us to produce multidimensional electronic sound outside the algorithmic limitations of recording software; "Unplugged" was an attempt to get our hands on a rawer form of electrical material and to exploit the emotional capacity of frequencies existing off the grid. The performance was presented in music venues across the United States and Canada. (photo by Colin Self)
CONDOMINIUM
2011 – 2016: Since 2011 we have been taking up temporary residence in a series of timeshare resorts around the eastern seaboard, installing our sound-production system and the sphere of our creative environment into the unfamiliar surroundings. The project is a practice of contending with the abstract challenges of space in more literal terms, taking the larger question of where one might feel welcome to exist and to create and confronting it tangibly, in specific and not-necessarily welcoming places: can we write an electronic bass line in an 80's style Poconos townhouse with neighbors on either side? Can we remember our creative impetus when we are far away from community and context? What form do creative materials begin to take when loosened from external influence and support? Documentation of our tenure in these vacation sites takes the form of photographs, videos, and the influence upon the compositions themselves. A video of our stay in Atlantic City is visible on our video page and there is an essay about working in condominiums on Khaela's site.  (photo collage by Khaela Maricich).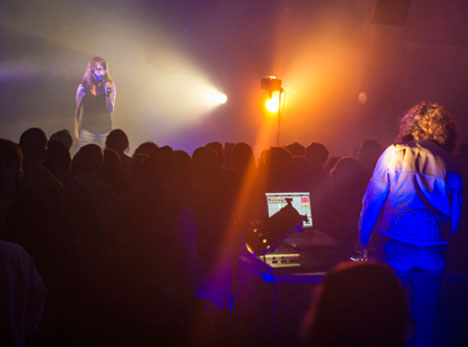 THE BLOW: THE BLOW
2013: The performance THE BLOW: THE BLOW, alternately titled We put it together so we could take it apart, was the live iteration of our first album as a duo, "THE BLOW: THE BLOW." We performed from opposite sides of the venue, Khaela on the main stage and Melissa on a stage in the middle of the space. Sandwiching the audience between us, we treated the performance as an intimate conversation, to which onlookers could be privy. THE BLOW: THE BLOW was performed at Portland Institute of Contemporary Art, Museum of Fine Arts Boston, The Kitchen, Music Hall of Williamsburg, Artscape Toronto, and other venues across the United States. (photo by Matt McDonald).
SONGS FOR OTHER PEOPLE
2009: Songs For Other People was our first active performance collaboration. It presented a narrative that straddled the border of fiction and non fiction, offered as a between-song monologue confessional told by Khaela and framed within a landscape of lighting and soundscape installed and controlled by Melissa. Working from the premise that The Blow had been hired to ghostwrite for a tabloid starlet whose lesbian romance made headlines in 2008, the show was an exploration of the tenuousness of identity and the need for someone or something bigger to project oneself onto. Using lighting, shadow and depth as painterly tools, Dyne created an array of tableaux, inside of which Maricich performed the narrative from a morphing continuum of characters. Songs For Other People was performed at The Warhol Museum, The Wexner Center, Pulse Miami, Joe's Pub, as an opening act for the band Vampire Weekend, and in venues throughout the United States, Canada and Europe. (photo by Melissa Dyne).