The Blow is Melissa Dyne and Khaela Maricich. They make experimental pop music. After several years in the studio developing new sounds and new instruments for playing them, The Blow have a new album, "Brand New Abyss," a collection of electroacoustic compositions spanning from amped up rap jams to reverberant heartbreak halos. In live performances the duo performs with the same rig that they use to produce and record, a towering mothership of patched-together modular synths ancient samplers and other analog gear. Dyne comes from a background in installation centered on the physics of sound and light and Maricich has worked extensively in the context of performance art; their live shows build on these foundations, using popular music as a vehicle for broader explorations. The Blow's 2013 self-titled album was listed on both of the New York Times' lists of Best Songs of 2013, and was selected as NPR music editor Bob Boilen's favorite album of the year. Since 2014 they have been curating WOMANPRODUCER.com, a multi-platform archive of female music producers, engineers and sonic innovators. Together they curate WOMANPRODUCER, a platform for sharing data on female, trans and non-binary producers and sonic innovators. They live in New York City.
theblow.org
womanproducer.com
melissadyne.com
khaelamaricich.com
C.V.
ENERGETIC STRATEGIES (For Right Now)
Does the air hurt your brain, and sting your sensibilities? Does it come in like a shock and keep seeping in, never leaving you, never leaving you alone, disrespecting your boundaries and confusing you until you sort of more or less forget that it's happening (you never forget that it's happening, it's just too hard to talk about very often).
"UNPLUGGED"
2014-2015: "Unplugged" was the two of us performing on stage together with our sound production rig, disassembling and reconstructing material from the extended catalog of Blow songs. Developed slowly over the course of years, the system we built for producing music is a mothership of modular synths, ancient samplers and other audio gear patched together in a web of interchangeable cables. Melissa conceived of this system as an answer to the question of what it would look like for the two of us to produce multidimensional electronic sound outside the algorithmic limitations of recording software; "Unplugged" was an attempt to get our hands on a rawer form of electrical material and to exploit the emotional capacity of frequencies existing off the grid. The performance was presented in music venues across the United States and Canada. (photo by Colin Self)
CONDOMINIUM
2011 – 2016: Between 2011 and 2016 we took up temporary residence in a series of timeshare vacation resorts around the Eastern seaboard, installing our sound-production system and the sphere of our creative environment into the unfamiliar surroundings. The project was a practice of contending with the abstract challenges of space in more literal terms, taking the larger question of where one might feel welcome to exist and to create and confronting it tangibly, in specific and not-necessarily welcoming places: can we write an electronic bass line in an 80's style Poconos townhouse with neighbors on either side? Can we remember our creative impetus when we are far away from community and context? What form do creative materials begin to take when loosened from external influence and support? Documentation of our tenure in these vacation sites takes the form of photographs, videos, and the influence upon the compositions themselves. A video of our stay in Atlantic City is visible on our video page and there is an essay about working in condominiums on Khaela's site.  (photo collage by Khaela Maricich).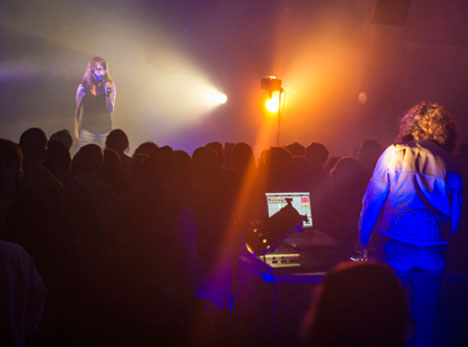 THE BLOW: THE BLOW
2013: The performance THE BLOW: THE BLOW, alternately titled We put it together so we could take it apart, was the live iteration of our first album as a duo, "THE BLOW: THE BLOW." We performed from opposite sides of the venue, Khaela on the main stage and Melissa on a stage in the middle of the space. Sandwiching the audience between us, we treated the performance as an intimate conversation, to which onlookers could be privy. THE BLOW: THE BLOW was performed at Portland Institute of Contemporary Art, Museum of Fine Arts Boston, The Kitchen, Music Hall of Williamsburg, Artscape Toronto, and other venues across the United States. (photo by Matt McDonald).
SONGS FOR OTHER PEOPLE
2009: Songs For Other People was our first active performance collaboration. It presented a narrative that straddled the border of fiction and non fiction, offered as a between-song monologue confessional told by Khaela and framed within a landscape of lighting and soundscape installed and controlled by Melissa. Working from the premise that The Blow had been hired to ghostwrite for a tabloid starlet whose lesbian romance made headlines in 2008, the show was an exploration of the tenuousness of identity and the need for someone or something bigger to project oneself onto. Using lighting, shadow and depth as painterly tools, Dyne created an array of tableaux, inside of which Maricich performed the narrative from a morphing continuum of characters. Songs For Other People was performed at The Warhol Museum, The Wexner Center, Pulse Miami, Joe's Pub, as an opening act for the band Vampire Weekend, and in venues throughout the United States, Canada and Europe. (photo by Melissa Dyne).